Azure Community Live - ONline Azure User Group
24 June 2020
Online Talks about Azure with different guests are happening in this user group
https://www.youtube.com/channel/UC6_5JdeUm2byP55nR2FZHrw
NDC Oslo
8-12 June 2020
NDC Conferences is one of the largest conferences for .NET & Agile development are found across the globe with conferences in Oslo, London, Sydney, Porto, Minnesota and Copenhagen..
[Real-time serverless applications using Azure SignalR Service]
(https://ndcoslo.com/talk/real-time-serverless-applications-using-azure-signalr-service/)
Microsoft Innovate | Innovation and Learning are Two Sides of the Same Coin
20th November 2019
Azure Serverless for Real-time Applications Melbourne
29th August 2019
Serverless days is a global conference all about Serverless technology. I am going to present how to use Azure technologies to build real-time aplications with SignalR, Azure functions, Azure storage and other cool technologies from Microsoft.
Youtube link
Azure Serverless for Real-time Applications Sydney
27th August 2019
Serverless days is a global conference all about Serverless technology. I am going to present how to use Azure technologies to build real-time aplications with SignalR, Azure functions, Azure storage and other cool technologies from Microsoft.
Youtube link
NDC Sydney
14th-16th Oct 2019
NDC Conferences is one of the largest conferences for .NET & Agile development are found across the globe with conferences in Oslo, London, Sydney, Porto, Minnesota and Copenhagen..
Talk 1:
Thousands of concurrent connections with Azure SignalR Services
Youtube link
Date: 14-18 October 2019
Talk 2:
(lightning talk) Have lunch and impact on your company!
Date: 14-18 October 2019
Sydney Azure user group
7th August 2019
Title: Using Azure SignalR Service to build real-time applications
https://www.meetup.com/Azure-Sydney-User-Group/events/263046780/
Lightning talk at NG-sydney user group
10th July 2019
Have lunch and impact on your company!
Not all companies are as forward thinking as you might expected and you might planning on leaving those companies.
However, there is always a way to fix the issues. At least you can try!
Nelly will show you how you can have lunch in your company and impact the culture, technology and behavior in your company and become a star!
Azure SignalR service and no more excuse to not having Real-time apps
27th April 2019
This talk has been happened on Azure Global Day 2019- Sydney
With Azure SignalR service all the pain of building real-time apps can easily go away. Realtime apps are the best means to increase the fairness and safety of users also interaction and communication between clients and server. I will show you how developers can simply build a real time app using Asp.net core along with a Vue.js client side app leveraging cool services like Azure SignalR service, App services and Blob storage from Microsoft Azure.
post and demo with Asp.net core, Vue.js, Azure SignalR Service
Video
This video includes all the topics for Global Azure Day but you can find the Azure Signalr Service topic around 2:20 min
Mentoring women for a Javascript workshop
23th February 2019
https://www.meetup.com/MusesCodeJS/events/258213224/
Fancy becoming a Fronend developer Sep
21th September 2018
45min Technical session with demo presented at DDDsydney
You can find the interview with DDDsydney Blog . Also the related blog Post
Mentoring Women in Tech at She hacks 2018
29th June 2018
Helping out a team of women in IT to move from idea to action and build what they desired.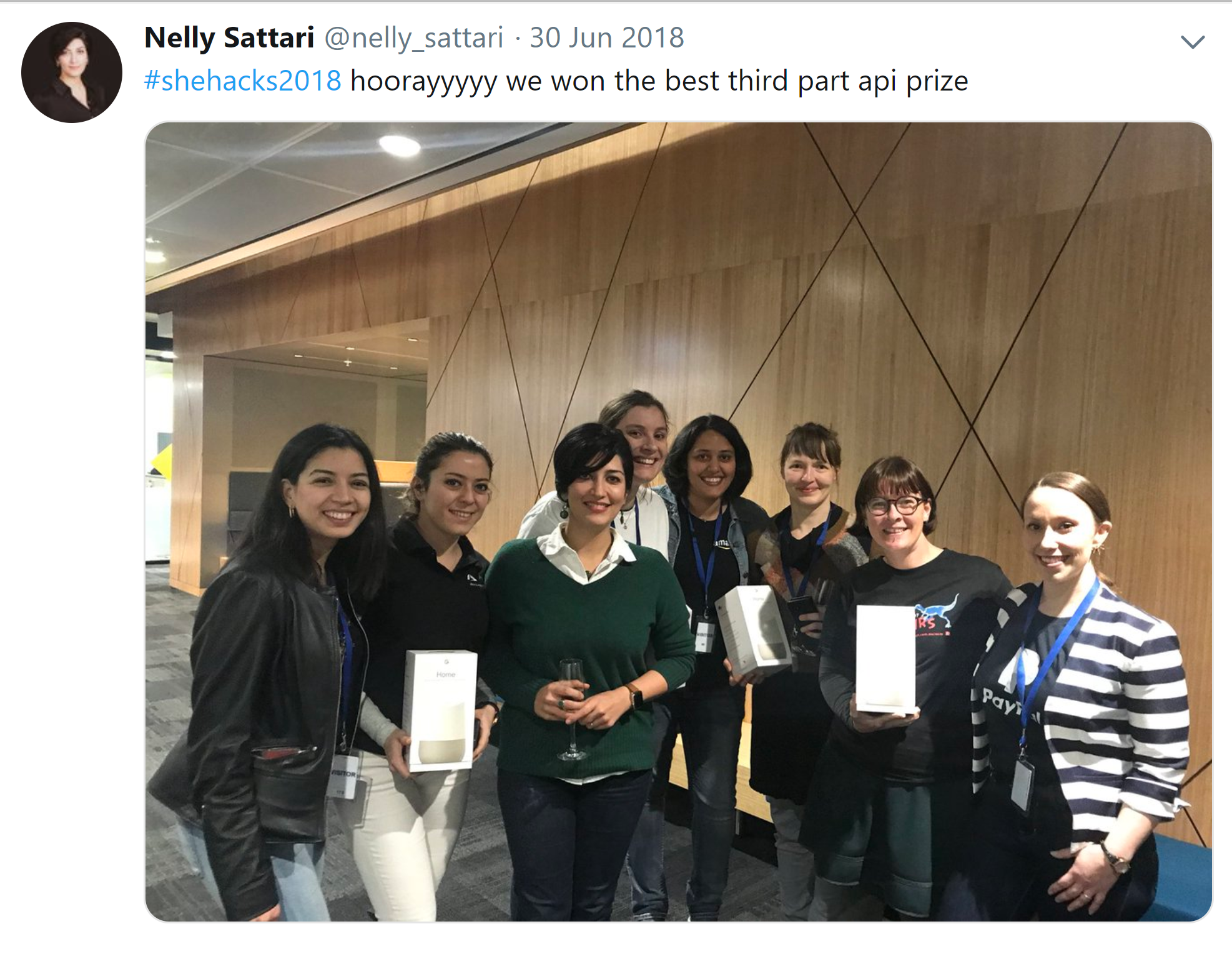 CI/CD and deploying an App to Azure App Service 2018
13th June 2018
The presentation was done for a group of developer at a very poular user group in Sydney Ngsydney
Brief description
We have discussed the concept of continuous integration/deployment and how to deploy apps like Angular app or any Node.js App to the Microsoft Azure App Service through Microsoft Visual studio team service (VSTS) CI/CD pipeline.
Look at my Linkedin post for more detail.
Building Web libraries by Vue.js
10th April 2019
Ngsydney user group was hosting me in Sydney.
Brief description
Sometimes a web library is the answer not a web app, Vue.js can help with that!
Vue.js is a progressive JavaScript library which can help you with multiple scenarios. In this session Nelly will tell you how she built a vue.js app which either can be used standalone or used as a Library in other websites
Look at my Linkedin post for more detail.
blogging
Look at my blog post for more details.
Serverless will be the king soon
13th September 2017
.Net Girls user group was hosting me in Sydney. This talk was also presented at [ngSydney] user group.(https://www.meetup.com/en-AU/ng-sydney/events/243077961/)
Brife description
What is Serverless all about? Let's discuss it's concept, architectures, benefit and challenges for IT teams! How do we start our very first Serverless API?
blogging
post for more details.
In this talk I have presented a cool technology.
Look at my Linkedin post for more detail.